SELF Blog
> A Clean Glass of Water is Beyond the Reach of Hundreds of Millions of People
By Matthew Cullom
June 20, 2015
For the month of June, SELF is joining Global Giving to raise $17,000 to provide villagers in the Kalalé region of Benin with a solar-powered potable water system. The need is dire, especially for the children, many who die from waterborne diseases. Go to  https://goto.gg/20808 to learn how you can help.
Californians, in the midst of severe drought, are being forced to cut back their water consumption. They take shorter showers and let their lawns and gardens wither. The situation is critical to be sure, but could be so much worse.
Imagine the reality faced by Kalalé residents in northern Benin during the region's annual dry season. As shallow wells and riverbeds dry up in the Sudano-Sahel region, villagers, mostly women and children, must walk for miles in search of water. Many leave home in the middle of the night to trek to distant rivers and shallow pools that dry up as the sun rises. With cleaner sources unavailable, they must settle for this polluted water, often sharing it with wild animals that have made the same long trek. With no way to adequately treat the water, which is fraught with bacteria and parasites, villagers suffer from high rates of waterborne illnesses. For Kalalé residents, access to clean water is a human right in short supply.
Before SELF's intervention, local girls were pulled out of school to help their mothers bring water from wells to their houses or gardens.
According to UNESCO, 45 percent of Benin's population is exposed to unsafe water. (https://www.unesco-ihe.org/stories/towards-water-secure-benin) Overall, waterborne illnesses account for over 19 percent of all deaths each year. Malaria, bilharzia (a disease caused by parasitic worms), cholera, and other diarrheal diseases are constant threats. Children with under-developed immune systems are the most vulnerable, with over half of children's health center visits attributed to malaria and diarrheal diseases. (http://www.ehproject.org/PDF/ehkm/pouzn-benin.pdf) Benin, which ranks 166 out of 186 in the Human Development Index, is desperately trying to reach the Millennium Development Goal of improved water sanitation. To do so, however, it must find a way to provide a quarter of its population access to clean water.
What is striking in Benin is that, unlike its northern neighbors, the country does have adequate under and aboveground water sources. (https://www.unesco-ihe.org/stories/towards-water-secure-benin)
However, many Beninese towns or villages lack the infrastructure necessary to safely and efficiently extract water. Like Kalalé residents, nearly half of the population (43%) cannot access developed water sources and relies instead on unsafe sources such as open, shallow wells or easily contaminated streambeds. (http://www.psi.org/wp-content/uploads/2014/09/Providing-Safe-Drinking-Water-in-Benin.pdf) Diesel pumps, a conventional tool used to extract water from safer, deep wells, are incredibly expensive and prone to fuel shortages and breakdowns.
SELF saw this as the perfect opportunity to fight water insecurity using solar energy. We installed ultra-reliable solar pumps to transport water from deep wells to sealed, above ground containers, eliminating the risk of contamination. With six closed water storage tanks, located in the center of five villages, residents now have easy, uninterrupted access to potable water.
On the left, local Children enjoy safe, clean water from SELF's storage tank. On the right, Kalalé villagers celebrate the installation of SELF's solar-powered water system.
Compared to diesel powered alternatives, solar pumps are cheaper and more durable as they eliminate the cost of diesel fuel and maintenance inspections. Diesel pumps need routine oil and filter changes and periodic part replacements, while solar panels only need weekly cleaning (a simple hosing down of panel surfaces to maximize PV output). Diesel pumps have an estimated life expectancy of around five years. Solar pumps can last twice as long. In conjunction with our local partner, ADESCA, we have trained Kalalé residents on how to repair solar systems. All six pumping stations continue to run smoothly and not one solar module has broken down since their installation in 2011.
In addition to providing clean drinking water, we combined solar pumping systems with high-tech drip irrigation systems that transport water from rivers and above ground reservoirs directly to the roots of the plant. This requires less water and labor than traditional irrigation techniques and boosts agricultural yields by almost 25 percent. With less water dedicated to irrigation, wells function longer into the dry season, enhancing water security for all villages in the region.
Many villages in Benin still have a great need for clean drinking water. Our goal is to install pumping systems to provide clean water to all of Kalalé's villages and eliminate water insecurity throughout the region. You can help us by contributing to the solar water system we are building through our partnership with Global Giving. Visit https://goto.gg/20808.
Access to safe water is a basic human right and yet 783 million people do not have access to clean water and almost 2.5 billion do not have access to adequate sanitation. (Source: United Nations) Water resources are becoming increasingly strained. Experts project the demand for water to increase 55 percent by 2050. Most of this demand will be driven by developing nations like Benin. At SELF, we believe that investing in renewable energy solutions is the fastest, most reliable path to ensuring the right to safe water in Benin and the rest of the developing world.
> Powering Africa: The Hope and the Promise
By Robert Freling, Executive Director
July 19, 2013
"Access to electricity is fundamental to opportunity in this age. It's the light that children study by; the energy that allows an idea to be transformed into a real business. It's the lifeline for families to meet their most basic needs. And it's the connection that's needed to plug Africa into the grid of the global economy. You've got to have power. And yet two-thirds of the population in sub-Saharan Africa lacks access to power — and the percentage is much higher for those who don't live in cities." — President Barack Obama, Remarks at the University of Cape Town, June 30, 2013
The satellite image of earth at night says it all: except for a few urban areas scattered here and there, essentially the entire continent of Africa is shrouded in darkness. In many sub-Saharan African nations, as much as 90 percent of the rural population lacks access to electricity. No lights. No refrigerators. No computers. Nada, Zippo, Zilch.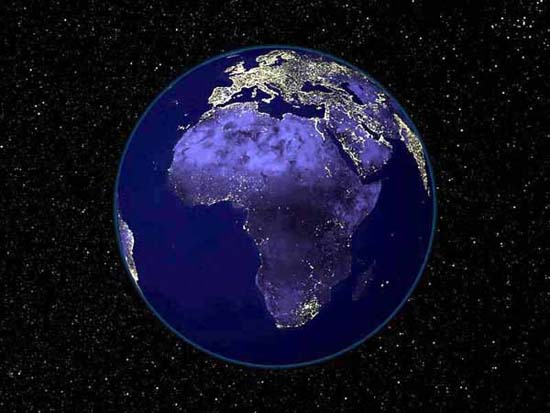 When President Obama announced his administration's
Power Africa
initiative, I was excited at the prospect of more lights being turned on in Africa, more children being able to go to school and access online resources, more patients being treated and vaccinated at rural health clinics, more farmers finding ways to ensure their own food security, and more small entrepreneurs launching new businesses.
For those of us in the international development community who have been fighting energy poverty, this initiative is a big deal. Combined with the U.N.'s Sustainable Energy for All initiative — whose primary goal is to ensure universal access to modern energy services for the world's poor by 2030 — Power Africa can help make a significant contribution to the challenge of providing electricity to those who have none.
The bulk of the Power Africa initiative seems to be focused on developing electricity services for urban or peri-urban areas; however, it is important to note that the vast majority of people who suffer from energy poverty live beyond the reach of a traditional power grid.
These folks are not likely to have access to grid electricity anytime soon due to the exorbitant cost and logistical difficulty of extending power lines to remote parts of the world. Greater emphasis should therefore be placed on finding ways to power communities in remote regions and allocating appropriate funding to meet those needs. Solar and other renewable energy‐based power systems offer the best solution for meeting the energy needs of off-grid communities as they can be installed in very remote locations, do not have to be tied to a utility grid, are cost-effective, and can last 20‐30 years with proper maintenance and servicing.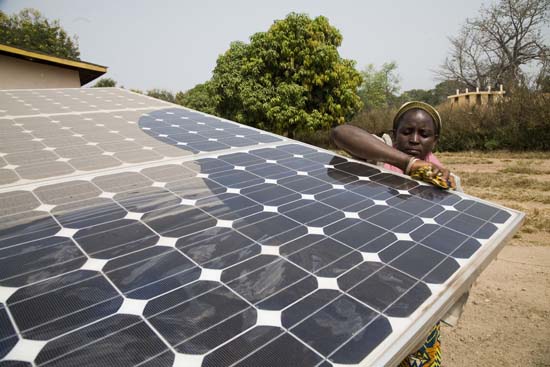 Solar electricity may be used in very remote locations to power stand-alone applications such as household lighting systems and appliances, or alternatively, to power larger facilities such as schools and health centers. It can also be used to pump and purify water, irrigate crops, run computers, and power small businesses. When combined with wireless communications, solar energy can also put the world's ever-expanding database of knowledge at the fingertips of every child on the planet, no matter how remote or isolated he or she may happen to be. And now, thanks to recent advances in inverter and smart metering technology, solar micro-grids are quickly becoming a cost-effective solution for powering entire villages or even clusters of villages in the developing world.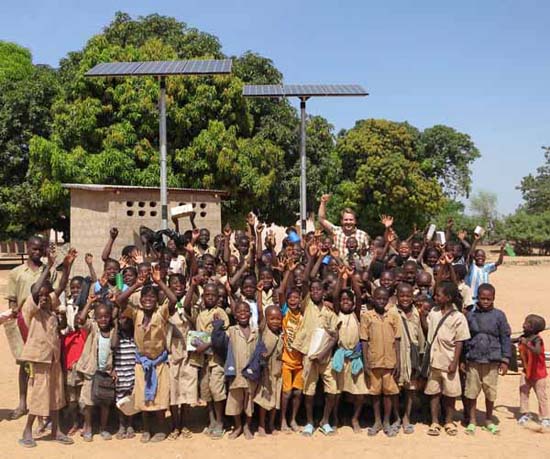 I believe that energy is a human right. Without it, there is no way to light homes, pump water, store vaccines, run computers, operate machinery, or communicate with the rest of the world. For many communities that lie beyond the reach of a conventional power grid, solar energy offers the greatest hope to provide the power they need to secure a brighter future for themselves and their children.
Follow Robert A. Freling on Twitter: www.twitter.com/@BobFreling
> Hurricane Sandy Hits Haiti: Dispatch from the Field
November 12, 2012
Two weeks ago, Hurricane Sandy hit Haiti with some of the worst rains the country has seen in recent years, and took the lives of over 50 Haitians. Our team was in the midst of the turmoil, and Jean-Baptiste Certain, our project manager, gave us a first-hand account of the hurricane's impact:
By Jean-Baptiste Certain, SELF Project Manager, Haiti
Before the hurricane hit, about 10 of our team members were in the mountains of Haiti's Central Plateau where we recently installed solar systems at some very isolated schools for the NRG project, and it rained way more than expected. For those guys, it's been a "mud hell"… Our tank of a truck got stuck well over 10 times on the way down – they literally had to shovel the truck out with a group of farmers several times, the mud was well above the axles. This trip from Boucan Carré to Sivol usually takes 2-3 hours, but this time it took an entire day.
In the south, where we recently installed 12 solar systems for health centers, the destruction and flooding have been massive. In Randèl, a village located at the top of a fast-growing, very dangerous river, about 550 mm (21.6 inches) of water fell in two-and-a-half days, and about 700 mm (27.5 inches) of rain fell near Chantal in three days; our installations in both of those villages are top-pole mounts. The Prince of Norway's visit to our site in Chantal was cancelled because of the rain – he would have to cross a river that normally has no bridge, but it swelled so much it's now impassable.
One of my usual hotels in Port Salut in the south was half destroyed – rooms fell, the ocean entered the others – the Haitian owner said, "Good, it needed renovations!" – a true story!
We're preparing to install the last two solar systems at Partners In Health clinics, but won't be able to actually get there for days… We have to take over 50 kW of solar panels and over 50 large and heavy batteries that took three shipping containers to bring to Haiti.
Elsewhere, bridges fell, roads disappeared, and there was flooding everywhere. The river next to our house in Port-au-Prince was so high that it almost took out the only two bridges to Croix-des-Bouquets, and got real close to our house – that's a rise of about 20 feet in three days!
But, our team is safe, and we didn't break or lose anything. Makes you wonder though – what would have happened if the hurricane had actually passed right over us? And it was a category one, increasing to a category two – what would it have been like if it was a category four or five?! What would have happened to the tent camps that are still everywhere?
Haiti isn't going to get out of the bush any time soon…